Anyone can be successful growing a lush cool lawn given the four basic necessities and a little help from the wide array of Scotts Lawn Care products.
Grass needs sunlight, nutrients, air, and water. While the sunlight shines where and when it will, nutrients, air, and water are all well within the lawnmaster's control.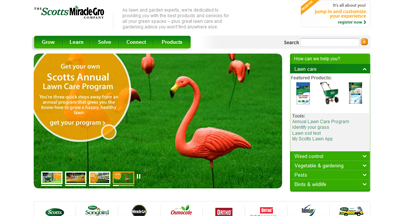 Begin Underneath: Soil Composition
Soil is the medium that not only supports the grass but provides three of the four essentials mentioned above; nutrients, air, and water. The best soil for grass is loam mixed together with sand, silt, or clay about 4-6" deep.
Poor soil such as with high clay content that compacts too much, preventing air and water from adequately reaching grass roots, or too high a sand content that doesn't keep water present long enough to benefit the grass, can be improved.
Green Enrichment: Fertilizer
As a rule of thumb, cool-weather grasses should be fertilized in late spring or early fall while warm-weather grasses respond best to enrichment during the summer months. Use a slow-release fertilizer and avoid those with high amounts of nitrogen if you're leaving grass clippings as mulch…unless you really enjoy mowing.
Need Help With Your Lawn?
Scotts' wide array of fertilizers not only feed the grass for a strong lawn but also meet any grass situation from building the turf to controlling pests and weeds, preparing for winter, and even reducing the required frequency of watering.
Timing is everything: Watering
Watering is best done in the early morning while winds are calmest and temperatures are lowest but after the grass has dried. Apply enough to soak in deeply.. If using a sprinkler system change it to meet the seasonal needs of the grass rather than leaving it always on one setting. It is not necessary to water very frequently.
There are steps to take to weather the dry months. A Scotts Water Smart lawn will save you water by helping the grass to grow deep roots and a thick turf allowing your lawn to work like an outdoor air conditioner to cool your home.
Water Smart grass seed is specially coated to withstand dryness and when fed with the Water Smart fertilizer the lawn grows thick and strong. Other suggestions for beating the heat include:
Reduce or eliminate nitrogen fertilizer until fall
Avoid extensive use of weed killers, which lessen the vigor of grass roots
Keep your mower blade sharp, cleanly cut grass blades lose less moisture than shredded ends do
Mow high, higher grass is shadier grass
Mow infrequently or when it is cool
leave clippings, not clumps
reduce traffic on the lawn
water as suggested above
Cutting it right: Mowing
Keeping the mower blades sharp is a basic step to making a clean cut no matter what type of mower you choose. Sharp blades prevent torn grass with its vulnerability to fungus and diseases as well as high moisture loss. Mower blades should be sharpened about every four to six weeks during the cutting season.
The lawn should be mowed often enough to remove the top third of the grass blade. Grass should be dry for mowing and best times are morning and evening, the evening being the best. Avoid allowing the grass to grow too high as an extreme decrease will shock the plant.
Different varieties of mowers suit different tastes for producing the best cut. The rotary mower is a standard residential choice, having one blade that spins around a central point with a scything motion.
Mowers can either be gas or electric powered, the gas option being generally a little heavier of the two, while the electric tend to be less powerful. For those very serious about environmentally friendly options, there is the hand mower, powered by the operator alone. Riding mowers are popular for larger lawns, giving the owner a few moments of mowing zen as they trim the lawn.
Cordless Electric mowers are growing in popularity because they are convenient and a relatively cheap option. The Toro e-Cycler 20360 retails for $399 whether purchased from Home Depot or Amazon.com. Convenience can be sacrificed for a lower retail price, an electric mower with a cord such as the Black & Decker MM875 going for only $199 on either Amazon or in Home Depot. This option was a little higher found at Tyler Tool with a price tag of $214.95.
Gas Powered mowers are more powerful, the heaviness sometimes offset by a self-propelling system. Two well-reviewed self-propelled mowers are the Honda HRX series, which consistently does well in professional comparison tests and the Toro Recycler 20332 that adjusts to the operator's walking pace.
The Honda can be found at many home and garden stores, the MSRP runs about $800. The Toro can be purchased on Amazon for $750 while it can be found considerably cheaper at Home Depot with a price tag of $349. If you can get by pushing the mower that drops the price considerably, a well-reviewed Lawn-Boy 10645 retailing for $259 online and through brick and mortar retailers both.
Riding mowers, more properly called lawn tractors, tend to have brand names associated with tractors. John Deere does well in consumer reviews, said to be the best tractor overall and a solid medium-duty choice. The lawn tractor is a more serious commitment than a push mower, the price ranging from about $3,600 for a top of the line John Deere to the small budget-priced Weed-Eater We-One priced at $699 both online and in the big box stores.
Choose a mower for your needs and budget and rely on the Scotts Lawn Care professional recommendations and products. The right lawn care tools make all the difference for a lawn that is healthy and easy to care for.
Further Reading