Details about MTD Lawn Mowers
Is your mower starting to creak, rattle and squeal as you cut the grass? Is it shaking your arm and giving you a workout from the vibration? Are you longing for a mower that's self-propelled and can instantly turn those grass clippings to mulch?
For a crisp cut and smooth action, consider upgrading to one of MTD's high quality mowers. Here's the lowdown on some of MTD's current offerings and how they compare to the other brands.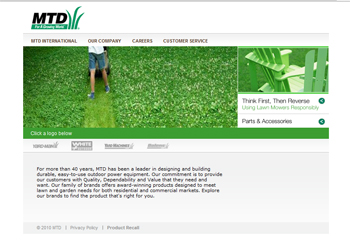 The TriAction Cutting System is designed to assure you get a clean cut every time. With this system, the grass is pulled through a rake bumper before it is cut. This bumper pulls every blade upright for an even cut every time. The mower deck also extends past the wheels, meaning that you have to make fewer passes with the mower.
Choose whether your clippings are mulched, discharged, or bagged.
Dual-levers allow for 6 different height levels
Front wheel self-propelled
The handle can be set to 3 different height levels.
190cc Briggs & Stratton engine
Never fight starting the mower again with the electric start feature
Available at Lowe's and other Troy-Bilt Authorized Retailers
Cost is less than $300
This mower can be compared to the Husqvarna XT722FE
A key start allows for easy starting
Offers same choices for clippings; bag, mulch and side-discharge
Variable drive speed means that you can set how fast it goes.
The handle folds for easy storage
173cc Kohler engine
Front wheel drive self-propelled
Four cutting levels
Available for $310 at Ace Hardware stores and at acehardware.com
This mower does not, however, offer the impressive TriAction Cutting System that can be found with some of the MTD mowers.
Need Help With Your Lawn?
TB325 XP 21" Variable-Speed Self-Propelled Mower
If you're a fan of Honda engines, you might want to consider this mower. This machine offers the following features:
Honda built 160cc engine
Comfortable, curved handle
3-year limited warranty
4-Speed continuous variable transmission allows you to set the most comfortable speed
Adjust height levels easily and comfortably with the single-lever height adjuster
Choose to have your clippings mulched, side-discharged or bagged
Mower is propelled by the rear wheels
Cost is less than $350
Another mower in the same price range is the Toro Personal Pace Walk Power Mower. It sells at Home Depot for $350 and offers the following features.
22" cutting deck
3 in 1 bagging system for bagging, mulching or side discharge of clippings.
190cc Briggs and Stratton engine
The Personal Pace design allows you to set the mowing speed.
TB230 TriAction 21" High Wheel Self-Propelled Mower
Features the highly effective TriAction Cutting System
ReadyStart Choke System eliminates the need to prime the mower
Features mulching and rear bag options for grass clipping
Rear wheels are 11" high, making them more maneuverable
Variable speed control is operated with the squeeze grip
190cc Briggs and Stratton engine
Handle can be adjusted to 3 levels
Deck can be adjusted to 6 cutting heights
Front wheel self-propelled
Available at Lowe's and Troy-Bilt Authorized Retailers
Price is less than $300
A comparable mower for this machine is the Sears Craftsman Platinum 190cc 22" Briggs and Stratton Rear Bag High Wheel Rear Propelled Lawn Mower.
Rear wheels are 12" high.
The bag has a Full Bag Indicator
Single point height adjustment
22" cutting deck
Sells through Sears for $340.
There are many mowers on the market offering the 3-in-1 features for grass clippings. However, there is only one company offering the impressive and highly effective TriAction cutting system.
The expanded deck size on the MTD mowers allows you to cut the lawn without having to overlap every row. The expanded choice for deck height is also very important. Some people prefer the grass long, others want it short. With any of the MTD mowers, you will be able to choose the height that it perfect for your yard and your situation.
MTD builds a mower that is designed to provide you with many years of quality service and easy use.