Starting your own lawn care business can be a great way to take your first entrepreneurial step. As with almost any successful business, you should go into the initial stages of your operation with a business plan.
Even a seemingly easy to start business such as a lawn care service may need some guidance and thorough planning, directing where you want the business to go and how you want it to grow and expand. Starting a business without such a plan can be like beginning a road trip without a map. You may have a general idea of where you're heading and when you'd like to get there, but without the specifics, you may end up far from where you initially expected or not arrive at all.
Here are a few areas to consider when developing a business plan for your lawn care operation.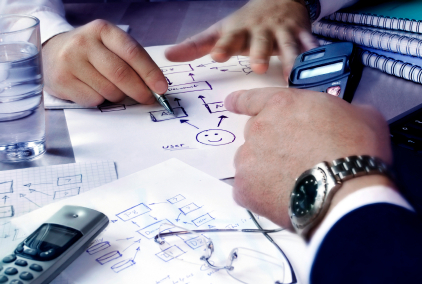 Geographic Location
The success of your lawn care operation and what services your company can provide may vary widely depending on geographic location.
In more northern or mountainous areas, where climates are cooler, your company may incorporate snow removal and salting services for homes in order to keep your business operating during winter months. States with heavy fall foliage may provide the opportunity for leaf removal services. Meanwhile, you may discover that in warmer climates, lawns may need watering, hedges may need trimming, flowers may need tending, and lawns require service year round. Winters can be long in the northern part of the country, and if you aren't prepared to make money in aspects other than just general lawn service, you might find that your profits dwindle and your ability to keep your operation afloat is greatly diminished.
Need Help With Your Lawn?
** TIP: Learning what type of grasses, weeds, trees, flowers, shrubs, etc. are indigenous to (and flourish within) the geographic area in which you start your lawn care business may be key to its success. Having background knowledge or expertise on proper care techniques for the lawn elements with which you deal can keep customers happy and reduce the risk of making embarrassing mistakes that can cost your business money and clients.
Start-up Considerations
So once you've decided upon the location in which you would like to try your lawn care business, and have a good idea of what type of services you will provide your customers, you will likely want to come up with an idea of how much it will cost to get your operation underway.
Thankfully, a lawn care service is often toward the lower end of the scale when it comes to start-up costs when compared to many other businesses.
Other than the cost of equipment, which is fairly minimal compared to stocking a sizable inventory in say a store, restaurant, or similar venture, you might have some advertising costs (fliers, business cards, a few newspaper ads, maybe even a website), and the cost to register your business or business name with a local municipality.
The great part about developing the business plan during the initial start-up stages of your operation is that some of the more major costs often associated with a new business may be greatly reduced or eliminated altogether with a lawn care service.
You may be able to run your company out of your own home, utilize a personal vehicle for transportation, use word-of-mouth to advertise for your lawn service, and maybe even develop your own website. Once you have a solid foundation under you, you can evolve your business plan into other aspects such as promotional mailings, leasing a space from which to operate, or building a fleet of vehicles and equipment.
** TIP: Consider applying for a W-9 identification number through the IRS to make your business legitimate and reduce chances of having to use your social security number for tax and business purposes.
Equipment
Equipment will likely be the largest portion of your start-up costs. Before you go out and spend thousands of dollars on the latest lawn mowers, edgers, trimmers, weed eaters, blowers, and all the rest though, you might want to take a look around your own garage first.
You may find that you will be able to get your operation going simply by using the lawn equipment you already own. Doing so can keep start-up costs low, and reduce risk if you aren't able to grow your business as you expected. Then, if you find your operation is expanding, you can splurge and purchase more advance equipment and build an inventory of items, allowing you to provide more services to customers and protecting yourself against equipment failure.
**TIP: Once you have developed a sizeable equipment inventory, consider developing a cyclical maintenance program to ensure your equipment regularly gets the proper care needed to keep it operating at peak efficiency.
Labor
When you are developing your lawn care business plan, you may want to restrain yourself a bit when it comes to labor in the company's initial stages.
After any initial equipment and advertising costs are paid for, labor will probably be your highest and most consistent expense line. This is why it will probably behoove you to keep labor costs down, at least until you have gathered a core group of customers and find it necessary to expand your business. You may even want to keep your operation limited just to yourself until you learn the ropes and feel comfortable bringing outside parties aboard.
Your labor costs and how you will utilize your personnel is something that will have to be carefully considered in your business plan. There is a fine line between having enough employees to grow your business and be able to handle enough lawns to be profitable and overextending yourself financially.
After you determine exactly how much you want to charge for your services and how much you'll be paying yourself, you'll need to consider how many clients you would have to service to pay for your daily overhead (i.e. gas, your time, equipment, etc.). You will then likely have to consider how much you would pay each additional employee and determine if their efforts would garner enough income to cover the cost of their labor.
As your number of team members increase, and in turn labor costs expand, your client list will also have to expand as well to keep pace with the additional labor costs.
**TIP: You may want to try your lawn service as a part-time venture first, testing its success and limiting the number of employees you take on until you're sure you can sustain the payroll for multiple team members.