To every thing there is a season, and a time to every purpose under the heaven, Ecclesiastes reminds us: a time to plant, and a time to pluck up that which is planted.
Seasonal cycles play a particularly critical role in gardening and lawn care. Your lawn care schedule will vary according to the climate where you live, of course – the calendar may call the month of March "early spring," but if you live in the Midwest, your lawn may still be a snow bank when your compadres in Florida are getting out their mowers for the first time.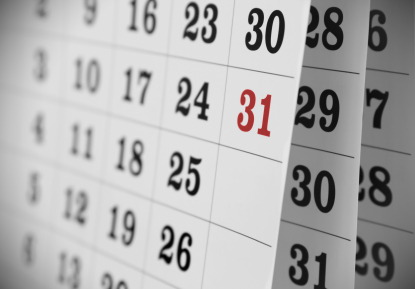 Still – no matter where you are geographically, you can expect the maintenance and upkeep of your lawn to follow a predictable schedule.
Early Spring
Get out that list you've been compiling at odd moments throughout the winter. Are there trees that need trimming? Hedges that need pruning and shaping? Now is the time to decide whether you want to undertake these tasks yourself or hire someone to do them. One thing's for sure: they need to be done.
An early spring day when snow has turned to rain is the perfect time to assess your dormant lawn for depressions that may become a hazard when your grass has grown high enough to disguise them. Examine the spots where puddles are forming. Often these will be the low spots that need to be filled in before you begin work on this year's lawn. Frequently, too, such compaction indicates the need for aeration.
Need Help With Your Lawn?
Now is the time to make sure your lawn equipment and tools are in working shape. Does your mower start right up? Make sure its battery is fully charged. It may need to have its spark plug and air filter changed, its fluids topped, its tires filled, its blades sharpened. Your leaf blower has its own maintenance routine too. Pull out your pruning shears, shovels and rakes. Everything in tip top shape or will something need to be replaced? As long as you're going to the store anyway, you might as well load up on grass, seed, mulch, fertilizer and any products you may need to control weeds and critters too, right?
Mid Spring
Once the ground has thawed, it's time to do more than just think about your lawn. If you are an aficionado of natural lawn care, now is the time to collect your soil samples and send them to the lab. At the very least you should know the pH of your soil; if you don't want the expense of a professional analysis, all gardening supply stores sell pH testing kits.
To prepare your lawn for the coming year, you will want to remove all the dead grass, dead leaves, branches, twigs and other debris leftover from the previous growing season and the winter in between. This process is called "dethatching."
If your lawn is Bermuda Grass, Saint-Augustine Grass, Zoysia Grass, Buffalo Grass or some other warm season grass, this is the optimal time to aerate the ground. Aerating helps create growth pockets for grass roots to expand into and also helps water and fertilizer more quickly reach those roots. Aeration is always recommended if you have a lot of clay in your soil, or your soil is showing signs of heavy compaction
Your grass has started to grow by this point. Make sure you know the recommended mowing height for the type of grass you've planted your lawn with. Err on the high side rather than the low side: the longer your grass, the more photosynthesis it will be capable of. Longer grasses also have deeper (and therefore healthier) root systems.
Now is the time to launch your attack on the pretender to the throne – crabgrass. The best way to control crabgrass is by preventing it from taking root in the first place by applying a pre-emergent herbicide before the soil temperature reaches 58 degrees Fahrenheit (the temperature at which crabgrass germinates.)
Late Spring
Now is the time to fertilize your lawn. If you had your soil professionally tested, the results will advise you on what you need to add; otherwise rely upon the advice of one of the professionals at your favorite gardening center. Grass grows optimally within a certain pH range: you will need to add lime to your soil to raise the pH if it is too low or sulfur to lower the pH if it is too high.
Noticing weeds you don't want? Now is the time to do something about them. Some people are comfortable using pesticides; others are more comfortable using a more holistic approach to pest control.
Summer
Your lawn is beautiful, isn't it? It should be! After all the work you've put into it. Summer is the time me to enjoy it to the fullest. Of course you will still be mowing and watering your lawn on schedule. Mow slightly higher than you were earlier in the year, and mow often enough so that you remove no more than 1/3 of the grass stem. When you water, remember that it is better to soak your lawn thoroughly once a week than to tease it with a little bit of water every day. The optimal time of day for watering your lawn is early in the morning.
If your lawn is Bluegrass, any variety of Bent Grasses, any variety of Fescues, any variety of Rye Grasses, or some cool season grass, late summer is the optimal time to aerate your lawn.
Fall
If your grass is thinning in spots due to the relentless heat of an August sun, late summer to mid-fall is the optimal time to reseed. Overseeding will bring drought-stricken areas of your lawn back in no time at all.
If you fertilize your lawn more than once a year, time the second go-round with the first two weeks in September so your grass plants can benefit from the extra nutrients as they prepare to go dormant for the winter.
When the first frost descends, it's a good time to reassess the weed situation. While weeds may appear to be dying above ground, like your grass plants they're putting a lot of energy into strengthening their root systems. The stronger their root systems, the harder it will be to get rid of them in the spring – so even though it's slightly counterintuitive, the best time to stamp them out is now.
Keep mowing your grass right up to the point where it becomes dormant. There is no advantage to longer grass now, so you can mow it as short as you want to.